We have a whole pile of both birthdays and deaths today. Strap in.
B
I

R
T
H
D
A
Y
S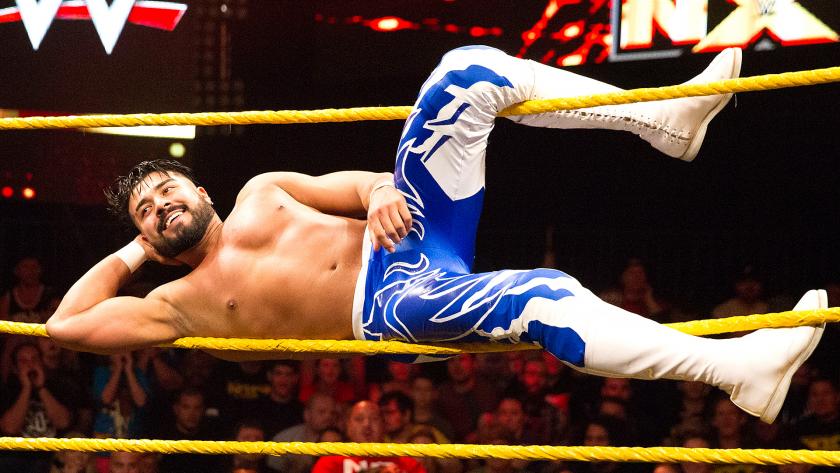 Andrade "Cien" Almas is 29 today. If you want a rundown of his career I recommend you read my Gorilla Fighters feature on him. Happy birthday Andrade.
---
Dawn Marie is 48 today. She started as a manager on the indie circuit in 1995 while at the same time training for an in-ring career. She eventually signed with ECW and was booked as Lance Storm's valet, Tammy Lynn Bytch, in opposition to Candido and his girlfriend, Tammy Lynn Sytch. That's Paul Heyman at his best right there. She also did some color commentary.
She signed with the WWF in 2002 and debuted as Vince McMahon's legal assistant. She married to Torrie Wilson's father, until he storyline died of a heart attack from too much sex on their honeymoon. Yep. She left WWE in 2005. Happy birthday Dawn Marie.
---
Zeuxis is 30 today. She has spent almost her entire career in Mexico, but did compete in the 2018 Mae Young Classic, where she defeated Aeriel Monroe before losing to Io Shirai. She's a six-time champion in Mexico. Happy birthday Zeuxis.
---
One half of the Funkadactyls, Cameron is 31 today. She was the first contestant eliminated in the 2011 revival of WWE Tough Enough. Prior to being eliminated, Ariane infamously claimed that her favorite WWE match of all time was Melina vs Alicia Fox causing Steve Austin to reply "who?" in utter shock.
She was immediately signed to a contract after being eliminated and assigned to FCW. She formed a tag team with Naomi, the known as Naomi Knight. She got her biggest exposure when she and Naomi came to the main roster as Brodus Clay's dancers The Funkadactyls. In 2014, Naomi got a push and Cameron got left behind. She was released in 2016. Happy birthday Cameron.
---
---
D
E

A

T

H

S
Danno Mahoney is the reason they call it the Irish Whip, as it was his signature move. I have no idea how that's a signature move, but hey, it was the 1930s.
O'Mahony's first professional match was in December 1934, against the famed Ed "Strangler" Lewis, but after losing the first fall of a 2-of-3 match in just five minutes, O'Mahony did not return to the ring. Nevertheless, Bowser was satisfied and brought O'Mahony to America. He signed O'Mahony to a $100,000 contract, and promoted him as the strongest man in the world, and the Irish champion who was looking for international competition. His first American match, against the villainous Ernie Dusek, degenerated into a two-on-one brawl against Ernie and his brother Rudy. When O'Mahony knocked both men down, along with the referee, the crowd cheered.
Bowser had O'Mahony win 49 consecutive matches, all the while building to a title shot against Jim Londos. O'Mahony's most painful win was an April 1935 match against Dick Shikat. Shikat, who had been having professional conflicts with the promoters, ignored the script and roughed up the rookie, breaking two ribs. Because of Shikat's tactics, O'Mahony's planned win became a win by disqualification.
After several years of professional conflict, Bowser and the other major rival promoters were working together by late 1933, with most of the territories agreeing to support Londos as their main world champion. As wrestling's leading attraction, Londos had an enviable deal with the promotional cadre that included a $50,000 payoff were he to lose the championship. Despite their working arrangement, each promoter was grooming his own preferred heir to Londos' throne. Besides O'Mahony, various wrestlers including Chief Little Wolf, Orville Brown, Lou Thesz, Bronko Nagurski, Daniel Boone Savage and Everett Marshall were all waiting to get the call.
After facing a string of top names, such as Man Mountain Dean, Gus Sonnenberg and Henri DeGlane, the long-expected O'Mahony-Londos match was announced. Londos was not eager to lose, but a reported $20,000 bonus on top of his contractual payoff was too big a sum to refuse. On June 27, 1935, at Boston's Fenway Park, Danno beat Londos to win the New York State Athletic Commission World Heavyweight Championship, which was also recognized by the National Wrestling Association. Londos, who hadn't lost an official match in six years, was quoted as saying, "I knew after the first five minutes I would have to be lucky to win. The kid is green, but with his strength, I believe he can beat any man in the world. And when I took the bout, the New York people told me I had nothing to fear! I wish I knew as much before I signed… and this bout would have never taken place."
He went on to win the American Wrestling Association World Heavyweight Championship, defeating Ed Don George at Boston's Braves Field on July 30, 1935. The win unified the three major titles at that time, but the result was controversial. O'Mahony had been knocked out of the ring, but the inexperienced referee (boxer James Braddock) failed to make the count. A rematch in September became O'Mahony's 70th straight win since arriving in America.
On October 11, O'Mahony defeated the only man who held a win over him: Ed "Strangler" Lewis. Word of their London bout had appeared in the Boston newspapers by this time. However, O'Mahony's title reign was turning into less than the roaring success promoter Bowser had hoped for, with the young champion being booed and attendance for many of his matches slumping. Promoters were also beginning to become disenchanted with the "unified title" arrangement, since that meant only one promoter at a time could book the champion.
On March 2, 1936, O'Mahony lost his National Wrestling Association World Heavyweight Championship to Dick Shikat at New York's Madison Square Garden. Shikat used his wrestling ability to genuinely hurt and punish O'Mahony, who tried to quit twice before the finish of the match. Shikat reportedly made the decision on his own, and following the win, immediately put his title up for "sale" to the various promoters
O'Mahony continued to be recognized as champion by the AWA in Boston, though his own popularity was on the wane and he was planning a return to Ireland. Before one of his matches, the Boston Globe printed a headline reading "Expect Danno to Lose His Crown at Garden Tonight." That prediction proved premature, but only by three weeks. Before the largest Montreal wrestling crowd in a quarter-century (10,000+), O'Mahony lost the belt to Yvon Robert on 16 July 1935. Two days later, O'Mahony set sail for home. He told reporters that he'd been cheated of the title, which allowed him to bill himself as the AWA champion upon his return.
O'Mahony moved to Los Angeles, where he ran a restaurant and wrestled locally. He joined the Army during World War Two. After the war, he wrestled in various parts of the US from 1945–1948. He returned permanently to Ireland in September 1950, but died from injuries suffered in a car crash just five weeks later, on November 3, 1950, at the age of 38. In 2002, the wrestling promotion Irish Whip Wrestling was named in his honor.
---
Evan Lewis was the first recognized American Heavyweight Champion and is credited with perfecting the "stranglehold" or "neck yoke", more commonly known today as the rear naked choke.
Lewis began wrestling professionally winning a 64-man tournament in Montana in May 1882. He returned to Wisconsin and defeated Ben Knight for the Wisconsin Heavyweight Championship in a Mineral Point match on March 20, 1883. Moving to Madison in 1885, he later defeated several international wrestlers, including Andre Christol, Tom Cannon, and Matsuda Sorakichi.
Defeating Joe Acton in Chicago, Illinois, for the American Catch-as-Catch-can Championship on March 14, 1887, he later unified the World Catch-as-Catch-can and American Greco-Roman Championship in a best-of-five match against Ernest Roeber in New Orleans, Louisiana on March 3, 1893. He had also defeated Roeber for the "Collar and Elbow Championship" on May 18, 1890. After defending the title for over two years, Lewis lost the American Heavyweight Championship to Martin Burns, whom he had previously defeated in his debut match in 1886.
Lewis died of cancer in Dodgeville, Wisconsin on November 3, 1919 at the age of 59.
---
Sputnik Monroe was a big headliner in the territory days. Debuting as Rock Monroe in 1945, he began his career by wrestling in traveling carnivals. He changed his name to Rocky Monroe in 1949, and adopted the nickname "Sputnik" in 1957.
Monroe was a noteworthy figure in Memphis cultural history. During a period where legal segregation was the norm at public events, and during a general decline in the popularity of professional wrestling, Monroe recognized that the segregated wrestling shows (whites sat in floor seats while blacks were required to sit in the balcony) were not properly marketing to black fans. The witty, flamboyant Monroe began dressing up in a purple gown and carrying a diamond tipped cane and drinking in traditionally black bars in the black area of Memphis. As a result of this, he was frequently arrested by police on a variety of trumped up charges, such as "mopery". He would then hire a black attorney and appear in court, pay a fine, and immediately resume fraternizing with black citizens and drinking in their bars. Due to this, and in spite of the fact that he was a heel at the time, his popularity soared among the black community. At his shows, although floor seats in arenas would be half empty with white patrons, the balcony would be packed to capacity with black patrons with many others unable to enter due to the balcony selling out.
Monroe, having become the biggest wrestling draw at the time, soon refused to perform unless patrons, regardless of their race, were allowed to sit in any seat at the Ellis Auditorium. As a result, promoters were obliged to desegregate his wrestling shows, which then completely sold out with Monroe's black fans filling the auditorium. Soon, other southern sporting events, recognizing the enormous financial benefits, began to desegregate as well.
In addition to being an early champion of black rights, he also won 17 different championships and was elected into the Memphis Wrestling Hall of Fame in 1994, the Professional Wrestling Hall of Fame in 2017, and the WWE Hall of Fame in 2018. He died in his sleep on November 3, 2006, at the age of 77.