Strap in folks, today we have a full slate that includes some real heavyweights.
B
I
R
T
H
D
A
Y
S
It would be a sin to start with anyone other than "The American Dream" Dusty Rhodes, who would have turned 73 today. Dusty was THE MAN back in his day. His feud with Ric Flair and the Four Horsemen is legendary. He was a three-time NWA World Heavyweight Champion, which is the belt his son Cody currently holds today. Any interview with any of the NXT superstars who were there when Dusty ran the brand includes them thanking Dusty. He may have been the "common man", but there's nothing common about his legacy. Happy birthday, Dream, and I'll leave you guys with this to be stuck in your heads all day:
---
When I said "heavyweights", I meant it. Solofa Fatu Jr. went by many names in his WWF/E career: He was Headshrinker Fatu, The Sultan, and also did a stint at WWE developmental territory Power Pro Wrestling as JR Smooth in 1999. He became the Power Pro Wrestling Heavyweight Champion before losing to it a still-in-training Kurt Angle.
It was after this time in developmental that he was repackaged as Rikishi Phatu, then simply Rikishi, the gimmick we all know and love. He and Too Cool formed one of the most popular tag teams of all time, and his sons The Usos still pay tribute to his character, as Jimmy even put daddy's glasses on Rusev on last week's Mixed Match Challenge. Long live the stink face, which I'm sure, like all things, he did for The Rock. Happy 53rd birthday big man.
---
Oh and there's still more to come. Peter "Tazz/Taz" Senerchia turns 51 today. Taz might have been the most over wrestler in ECW history. He was not the ECW World Heavyweight Champion, but thought he should have been, so he said "Fuck it, I'll make my own championship." He created the FTW ("Fuck the World") Heavyweight Championship and called himself the real world champion. That belt got more over than the actual title. He did some good things in WWE, but unfortunately mounting injuries sent him to the commentary table within a year. Happy if you can… birthday if I let you.
---
Tony Chimel, the personal ring announcer of Edge, also turns 51 today, as he was born the exact same day as Tazz. Ain't that some shit? Happy birthday Tony, our suuuuuuuuuuuuuuuuuuuuuuuuuuuperstar ring announcer.
---
The One and Only Ricochet turns 30 today. What a grab by WWE. After taking the world by storm on the independent circuit, he signed with WWE on January 16, 2018, and started in NXT shortly after. He is the current NXT North American Championship, but that is just one tiny, tiny speck on his list of accolades:
Chikara Young Lions Cup winner
DDT Pro-Wrestling's Ironman Heavymetalweight Champion
Dragon Gate Open the Brave Gate Champion
Dragon Gate Open the Dream Gate Champion
Dragon Gate Open the Triangle Gate Champion
2x Dragon Gate Open the Twin Gate Champion
Dragon Gate King of Gate
Dragon Gate USA Open the Freedom Gate Champion
2x Dragon Gate USA Open the United Gate Champion
House of Glory World Heavyweight Champion
Insanity Pro Wrestling Junior Heavyweight Champion
2x Lucha Underground Champion
Lucha Underground Trios Champion
Lucha Underground Aztec Warfare I winner
Lucha Underground 2017 Cueto Cup winner
3x IWGP Junior Heavyweight Tag Team Champion
3x NJPW NEVER Openweight 6-Man Tag Team Champion
NJPW Best of the Super Juniors 2014
NJPW 2015 Super Jr. Tag Tournament winner
Pro Wrestling Guerrilla World Champion
3x Pro Wrestling Guerrilla Battle of Los Angeles winner
Revolution Pro Wrestling Undisputed British Tag Team Champion
World Series Wrestling Heavyweight Champion
He was also ranked #15 in PWI 500 in 2016. And he's only 30. So yeah, he's good, and hopefully WWE keep him around for a long time. Happy birthday King Ricochet.
---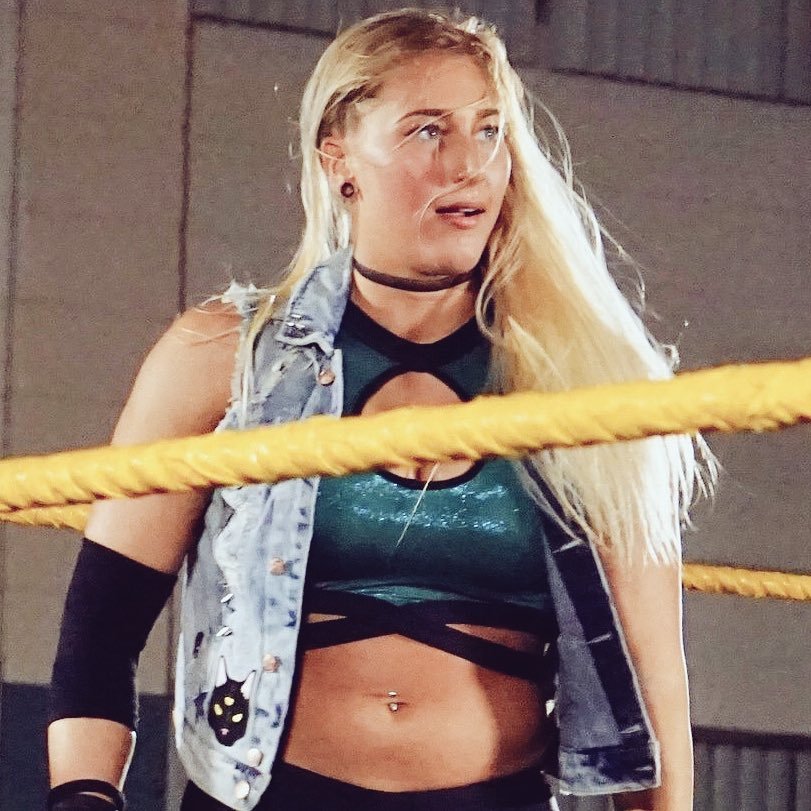 One of my favorite wrestlers in the world, Australian star Rhea Ripley turns just 22 today. If you haven't been watching the Mae Young Classic and have never seen her wrestle, do yourself a favor:
She has future Women's Champion written all over her. I can easily see her headlining a WrestleMania someday. She is currently in the quarterfinals of this year's Mae Young Classic and is also signed the WWE's NXT UK Brand. DO NOT LET HER GO! Happy birthday Rhea.
---
D
E
A
T
H
S
Bill Berger didn't win much in the WWF. His biggest moment was taking probably the biggest Superfly Splash ever, which you can see around the 1:40 mark in the video above. He won a total of three matches in his WWF career, which lasted from 1976-83. He defeated The Red Demon on November 11, 1987, and twice beat JoJo Andrews, once on September 16, 1979 by DQ, and again cleanly on February 25, 1980. I'm sure those wins were not the highlight of his WWF career, as he got to step in the ring with the likes of Snuka, SD Jones, Tito Santana, Eddie Gilbert, Big John Studd, Adrian Adonis, George "The Animal" Steele, Johnny Valiant, Larry Zbyszko, Sgt. Slaughter, and Ken Patera. He actually wrestled Hulk Hogan twice, and one of those was a televised match on WWF Championship Wrestling on New Year's Day 1980. I don't remember him, and I'm sure very few do, but that type of resume certainly deserves acknowledgement. Unfortunately, the reason he's being acknowledged today is because he died of a heart attack on October 11, 2001, at the age of 54.
---
Accoring to The Internet Wrestling Database, Larry "Hog Head" Croy had one professional wrestling match, against Ludvig Borga during a WWF Wrestling Challenge taping on January 11, 1994. You can enjoy Gorilla Monsoon and a high-pitched Jim Ross call the match:
Croy died on October 11, 2014, less than 2 weeks shy of his 50th birthday. No cause of death was listed. I'm sure he had more professional matches than this, but this is the one that immortalizes him forever in cyberspace.