ECW! ECW! ECW!
B
I

R
T
H
D
A
Y
S
Perry Saturn is 52 today. He rose to prominence in ECW when he and John Kronus formed the Eliminators. Fun fact: Paul Heyman was originally going to give them an S&M gimmick. Hell, it couldn't have been worse than his look in WCW.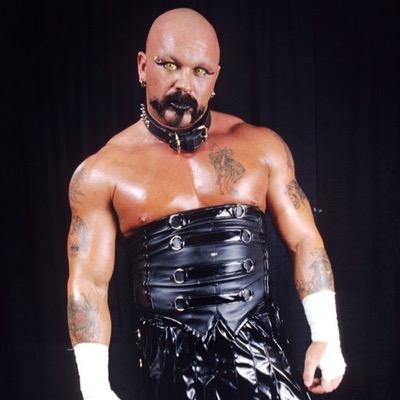 The Eliminators were three-time ECW World Tag Team Champions and ranked #89 of the top 100 tag teams of the "PWI Years". In May of 1997, Saturn tore his ACL and was given a recovery time of a year. He returned in three months. However, he'd become impatient with Kronus' laziness and lack of motivation, and refused to reform the Eliminators. Heyman offered to release him from his contract if he could find alternate employment, which he did in WCW.
He started in Raven's Nest, then ventured out on his own. He lost a "loser wears a dress for 90 days" match to Chris Jericho, which eventually resulted in the above monstrosity. He later formed a stable with Shane Douglas, Chris Benoit, and Dean Malenko called The Revolution. After Kevin Sullivan said that Saturn was incapable of getting over with fans, he negotiated with the WWF, eventually being released from his contract along with Benoit, Malenko, and Eddie Guerrero.
They debuted as The Radicalz, but broke up fairly quickly, with Saturn focusing on the Hardcore Championship, which he won twice. Terri Runnels joined him as a valet, and he beat former stablemate Eddie Guerrero for the WWF European Championship. The Radicalz got back together for a hot minute, but disbanded against just as quickly. After he beat the shit out of Mike Bell for fucking up during a match, he started a gimmick where he got head trauma and fell in love a mop named Moppy.
He reinjured his ACL in April of 2000 and was released later that year. He spent some time on the independent circuit, but unfortunately dealt with meth addiction and homelessness, and later learned of traumatic brain injury after getting clean. He seems to be doing better these days. Happy birthday Perry.
---
2 Cold Scorpio / Flash Funk is 53 today. He started wrestling in 1985 and after wrestling in various indie promotions and NJPW from 1985-92, he debuted in WCW as Ron Simmons' mystery partner at Clash of the Champions XXI. He and Marcus Alexander Bagwell had a brief run as WCW World Tag Team Champions. He was released in 1994 and signed with ECW. He was a four-time ECW World Television Champion and a World Tag Team Champion with The Sandman.
He made his WWF debut at the 1996 Survivor Series as Flash Funk. He wore a zoot suit and danced with his "Funkettes". He became a member of Al Snow's J.O.B. Squad and reverted back to his Scorpio name. During this time he was addicted to crack, and says he wishes he had told WWF of his problem instead of requesting time off for personal reasons, because his career there might have lasted longer. Instead of being granted the time off, he was released.
In 2006, he signed a contract with World Wrestling Entertainment. Upon joining the promotion, he returned to using his Flash Funk character in the WWE developmental promotion Deep South Wrestling until he was released on May 11, 2007, without ever appearing on WWE television. On the 15th anniversary of WWE Raw on December 10, 2007, he participated in a battle royal as Flash Funk, eliminating Steve Blackman while eliminating himself in the process. He then returned to the independent circuit. Happy birthday Scorpio.
---
Rosa Mendes is 39 today. She started in WWE in 2008 as a Beth Phoenix "fan", and then became her intern. She later moved on to managing Carlito, Zack Ryder, Tamina & Alicia Fox, and Primo & Epico, who she managed to the WWE Tag Team Championship. She had some various roles from 2013-15, appearing on Total Divas and Main Event as well as showing up in random multi-diva matches. She spent a brief time as Fandango's dance partner, before turning on him to manage Adam Rose.
After becoming pregnant, she retired from WWE, but recently returned to the independent circuit. Happy birthday Rosa.
---
WWE referee Shawn Bennett turns 31 today. He began training at IWF Wrestling School in July 2002 and graduated from the program in May 2003.  He presided over many top IWF title matches over the years, as well as important bouts across the country.  Bennett joined NXT as a referee in 2013, and officiates bouts on RAW, SmackDown, and Pay-Per-Views. Happy birthday Shawn.
---
---
D

E

A

T

H

S
"Pretty Boy" Floyd Creatchman was the son of legendary manager Eddie "The Brain" Creatchman. Following in his father's footsteps, he managed Bruiser Brody, The Great Samu. and a stable of heel wrestlers. He made a couple of tryout appearances in the WWF. He passed away on October 25, 2003 at the age of 46 after a long battle with Crohn's Disease.